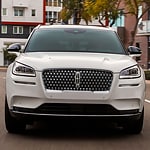 The Lincoln Corsair is not your typical luxury SUV. This compact vehicle is designed to give you some of the most impressive design features not available in other vehicles in its class. Here are just a couple of examples of how the Corsair provides a superior driving and riding experience.
The Corsair is one of the few vehicles in its class that comes with autofold side mirrors. This ingenious design allows the side mirrors to automatically fold when the vehicle is parked. This allows the side mirrors to be better protected when your vehicle is parked.
The interior of the Corsair feels more special than ever thanks to the available ambient lighting system. The color of the lights can be adjusted to match your mood. From cool blue to a vibrant amber, you will have no problem finding the right color for your Corsair cabin.