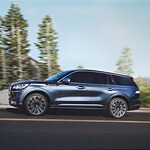 The all-new Lincoln Aviator is not your typical luxury SUV. The Aviator has been designed from the ground up as a vehicle aimed at providing an experience that both soothes and excites. The drivetrain of the Aviator is designed as a primary rear-wheel-drive system. This unique format provides handling dynamics unlike any other crossover SUV around.
The adjustable fully independent suspension provides comfort and confidence in any setting, but offers drivers the ability to select a precisely tuned setting to match the current driving conditions. The Lincoln Aviator also features an advanced all-wheel-drive system that remains rear-wheel dominant, allowing for superior grip and handling without any compromise in performance.
Even with the full bevy of performance driven features, the Lincoln Aviator remains every bit a Lincoln, offering unmatched refinement, elegance, and style. The Lincoln Aviator draws well from the Lincoln heritage, but has a keen focus on the future of American luxury vehicles.