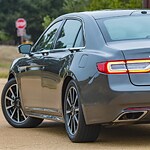 An explosive vibe is simply par for the course once you own the extravagant Lincoln Continental. This highly renowned ride has set the standard for posh performance specs, and the delightfully evolved driving experience is continuously reaching new heights each year. No other luxury car can refine your attitude this beatifically.
One phenomenal feature that deserves more attention is Active Noise Control. By modulating acoustic resonance in the cabin, this vehicle grants unprecedented quiet to everyone riding inside. Subtle sound mitigation is achieved via discreet speakers, so you can enjoy the sweet engine sounds in their entirety while partaking in uninterrupted conversations.
Another stunning new amenity arrives in the form of Auto Hold. By automatically locking the brakes during stops at intersections, this industrial masterpiece makes pausing in the city a breeze. Southgate Lincoln is excited to show off every glorious perk that is encapsulated in this esteemed automotive wonder, so reach out regarding a test drive anytime.