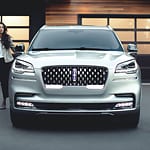 The Lincoln Aviator will give you an elevated driving experience. You can select the mode that best fits the road conditions and your mood. All you have to do is turn the knob that is in the center of console. Air glide suspension, aviator ground touring, pure EV and preserve EV are some of the modes that you have to choose from.
The Lincoln Aviator also has all-wheel drive. However, if you feel that rear-wheel drive is the best, then you have the option of selecting that mode. Additionally, the Lincoln Aviator comes with driver assist features. One of those features is adaptive cruise control.
This is a feature that will automatically adjust the speed according to the cars that are ahead of you. It also has a start and stop feature. You will be able to come to a complete stop and restart again. Your journey will go more smoothly.