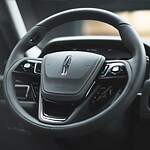 For those who want a luxury mid-size SUV that can perform on any road or terrain, the Lincoln Aviator is a top choice. That's because the Aviator has been designed as a true all-weather and all-road performance SUV. Here are some of the notable performance features of the Aviator.
The Aviator gives you the option of using a rear-wheel or an all-wheel-drive system. With the rear-wheel drive system, you will have the performance that you will need to handle the passing lane and get that fast acceleration that you will want in certain situations.
When the road and the terrain changes, the Aviator will be able to handle the challenge thanks to its drive mode selector. The selector features five different drive modes that can adapt to any road or terrain condition. On the Grand Touring trim, the drive mode selector includes two additional drive modes for EV or electric vehicle driving.